Exciting News from the Seneca Highlands Career and Technical Center!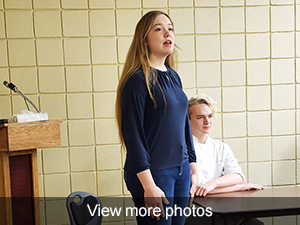 On Friday, March 10, 2023, we had the pleasure of hosting the McKean County leadership meeting at our Career and Technology Center (CTC)! A stellar group of community leaders joined us to learn more about our programs and students' experiences.
We're proud of our students who participated in the CTC panel discussion: Bennett Harris (welding), Brooklynn Burt (early childhood education), Kyle Worthington (engineering), Owen Peterson (networking), Brady Danielson (automotive), Ian Fox (homeland security), Seth Benson (culinary), and Faith Miller (health assisting). They had some wonderful things to say about our dedicated school team who have been instrumental in guiding them along their career paths.
During the panel our students discussed the unique challenges they faced in choosing a program without being able to tour the CTC in person due to the pandemic. Thanks to Mr. Young's informative video tour and our school counselor's unwavering support, they were able to make informed decisions about their futures.
We learned that sometimes, the CTC experience helps students discover not only what they want to do but also what they don't want to do, saving them time and money in the long run.
In more exciting news, the National Technical Honor Society induction ceremony is scheduled for April 27 with details to follow. Keep an eye out for invites in April!
We also want to highlight the incredible successes our students have experienced in finding their career paths, building strong connections with their peers, and acquiring valuable job-ready skills!
Our CTC programs not only equip students with the practical knowledge and hands-on experience necessary for their chosen fields, but they also foster an environment that encourages teamwork, collaboration, and a sense of community. These experiences help our students develop essential soft skills that will serve them well in their future careers.
It's truly inspiring to see how our students have grown and matured throughout their time at the CTC. Their career preparedness, confidence, and readiness to enter the workforce are testaments to the dedication and hard work of both the students and our phenomenal CTC staff.
We can't wait to see where their bright futures will take them, and we're confident that the skills and connections they've gained at the CTC will serve as solid foundations for their long-term success.
Join us in celebrating our students' achievements and the fantastic work of everyone at the CTC!
#CTCsuccess #CareerReady#StrongerTogether