eSports
Seneca CTC is proud to offer electronic sports as an extracurricular activity for our student body. eSports is a collective term describing organized, competitive video gaming. Team members use video game consoles, PC's, and/or mobile phones to play popular video game titles (not just sports titles) against other eSports teams.
Watch for special announcements about upcoming competitions on our News page.
Why eSports?
Video games? Really?
We get it. We hear this from parents all the time. Why would we support more video game playing for our students? But electronic sports can provide many career benefits.
Gateway to Careers & Other Fields
The gaming industry intersects the large industries of entertainment and technology. Familiarity with the gaming ecosystem builds student knowledge-base for what's possible, and eSports provides students the perfect entryway to the booming video game industry. Gaming companies, like our partner Riot Games, offer exciting career opportunities across the entire business and creative spectrum.
Scholastic Benefits
Believe it or not, gaming can increase student engagement. Engaged students perform better in school, and eSports uniquely appeals to teenagers. For many of our players, eSports is the first time they've participated in a coached, extracurricular activity that builds team values.
College Scholarships
Collegiate eSports is exploding, which translates into tens of millions of dollars in scholarships every year. Every season, more and more high performing players on our platform get snatched up by top collegiate programs.
Team Values
eSports players learn values like teamwork, discipline, and persistence. They also learn to take direction from coaches, to have humility, and how to win or lose with grace.
These team values contribute to a sense of health and well-being. eSports players develop a sense of belonging and purpose on a team, just like athletes of other sports. Gamers have sometimes been considered outcasts or loners. By joining the team, students forge friendships that go beyond gaming.
The Play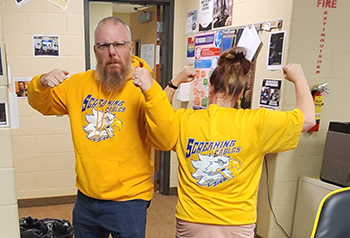 Our team, the Screaming Eagles, is composed of three, three-student squads (plus substitutes) that compete on the Rocket League of the Epic Games platform. Since PIAA has not yet sanctioned eSports, our league utilizes the services of Play-vs to organize.
Students commit to practicing at least 3.5 hours per week either from home or the CTC. They may use their current gaming consoles (XBox/Playstation), personal computers and peripherals, or those available at school.
There are no additional costs associated with Rocket League play as it is currently organized. And we welcome additional members. For more information, please contact "Coach" Brent Bryant at (814) 642-2573.