SkillsUSA Pennsylvania District 10 Competition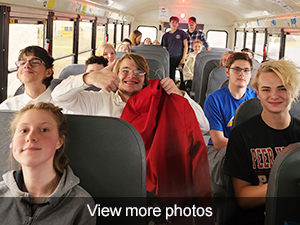 The SkillsUSA Pennsylvania District 10 competitive events took place on Friday, January 13, 2023. SkillsUSA is a partnership of students, teachers, and industry working together to ensure America has a skilled workforce. SkillsUSA helps each student excel by providing educational programs, events, and competitions that support career and technical education in the nation's classrooms.
Students throughout the region traveled to the New Castle School of Trades and Lawrence County Career and Technical Center to compete in a variety of competitions.
The following students, with their competitions and the results, that attended from the Seneca Highlands Career and Technical Center are: Harlee-Ann Panighetti (Otto- Eldred): diesel equipment technology, Garry Strait (Otto-Eldred): information technology service, Faith Miller (Smethport): health occupations professional portfolio (third (place), McKenzie Hurd (Coudersport): job skill demonstration, Alex Post (Otto-Eldred): medical terminology, Karsen Rees (Otto-Eldred): job interview (third place), Anastasia Penick (Port Allegany): restaurant service, Levi Culver (Port Allegany) and AJ Herring (Northern Potter): cybersecurity (third place), Mikya Stake (Port Allegany): first aid/ CPR (second place), Bren Carlson (Port Allegany): firefighting, Shakira Yoder (Kane): employment application process (second place), Alyssa Young (Smethport): prepared speech, Blair Dickinson (Smethport): early childhood education, Ryan Batt (Otto-Eldred): culinary arts, Seth Benson (Port Allegany): commercial baking, and Abram Austin (Otto-Eldred): carpentry (second place). Maura Hess (Northern Potter) competed on January 10 at Steamfitters in Harmony, Pennsylvania for welding.
We are very proud of all our students who took extra time to prepare and compete! The state competition this year will be in Hershey, Pennsylvania on April 12 through April 14.