Seneca Highlands CTC's Student of the Week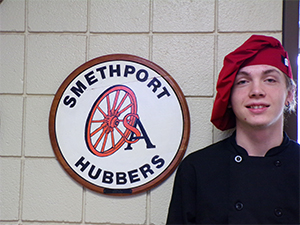 I have the pleasure of working with Joshua Raught in my culinary arts class where he recently earned the title of student of the week. Joshua is an outstanding student who shows great enthusiasm and dedication in all his endeavors. Joshua is a first-year student at the CTC and a junior at Smethport Area High School.
Joshua is a hardworking individual who knows what needs to be done and is always willing to go the extra mile to achieve his goals. He consistently demonstrates excellent teamwork skills and is always ready to assist his fellow students. In addition to his academic achievements, Joshua holds a ServSafe certification which showcases his knowledge and understanding of proper food handling techniques.
Apart from his educational achievements, Joshua is also a volunteer fireman, demonstrating his willingness to serve his community and help others in need, and enjoys riding ATV's which shows his adventurous spirit.